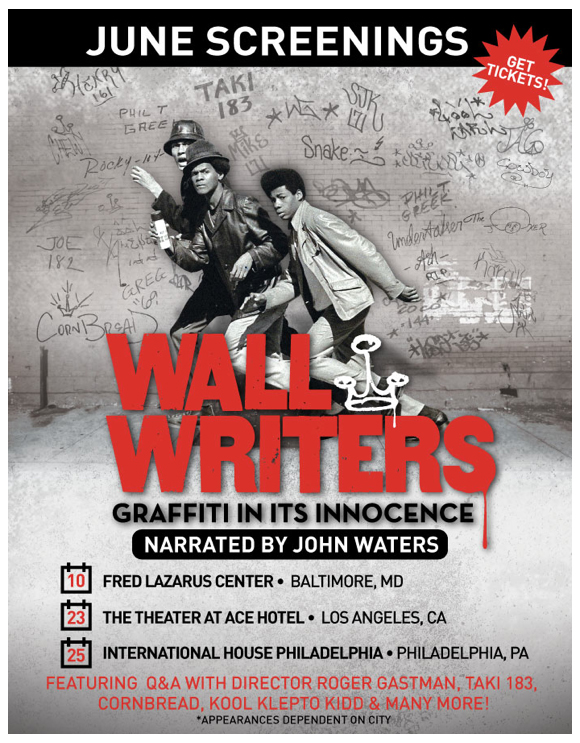 Roger Gastman's documentary film Wall Writers: Graffiti In Its Innocence will be screening at several locations around the country this month, featuring some spectacular guests (like Cheech Marin, Taki 183, Kool Klepto Kidd, and CORNBREAD) who will be in discussion about the film and the lore of early graffiti. Visit the ticket links for more information about each event. The documentary's companion book, Wall Writers: Graffiti In Its Innocence is available here from Gingko Press.
Baltimore, Maryland
Friday, June 10, 2016 @ 7pm
Fred Lazarus IV Center
131 North Ave
Baltimore, MD 21201
Note: Only Roger Gastman will be in attendance
Reserve Free Tickets for the Baltimore Screening Here
Los Angeles, California
Thursday, June 23, 2016 @ 6:30pm
The Theatre at Ace Hotel
929 South Broadway
Los Angeles, CA 90015
Note: Cheech Marin will lead Q&A with Director Roger Gastman, Taki 183 & Kool Klepto Kidd
Purchase Tickets for the Los Angeles Screening Here
Philadelphia, Pennsylvania
Saturday, June 25, 2016 @ 7pm
International Philadelphia House
3701 Chestnut Street
Philadelphia, PA 19104
Note: Signing and speaking will be Roger Gastman, Cornbread, Kool Klepto Kidd, Cool Earl, Lewis & many more!