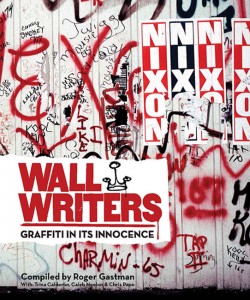 Catch Roger Gastman's documentary "Wall Writers"at the Museum of Contemporary Art Chicago tonight, January 19th, from 6:00 – 8:00 pm. The screening will take place in the Edlis and Neeson Theater in the Museum's first floor; the event is free, but get there early as seating is first come, first serve, and space is limited! Author and director Roger Gastman will be at the theater at 5:00 pm for a signing of the documentary's companion book, Wall Writers: Graffiti in its Innocence, and will be introducing the documentary.
Wall Writers, narrated by legendary filmmaker John Waters, is a documentary film that explores graffiti's eruption into mainstream society during a period of social turmoil in the late 1960s and early 1970s. From graffiti's humble beginnings in 1967 to the first graffiti painting being sold in 1973, the project reveals the context of the start of a movement that would eventually grow to transform city life, public transit, public art, and ultimately visual art the world over.
Visit MCA Screen's event page for more information about the screening. More information about the Wall Writers book is available from Gingko Press.