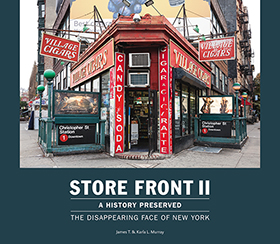 Don't miss Rizzoli Bookstore's celebration of James and Karla Murray's new book, Store Front II – A History Preserved: The Disappearing Face of New York, on Monday, November 23rd at 5:30 pm. The free event promises to be enlightening as well as entertaining, as the Murrays join in a moderated conversation with the GVSHP's Karen Loew on the hypergentrification of New York City and how its independent stores are faring in the face of the constant threat of corporatization. There will also be a slideshow of images from the book and a book signing by the authors.
While their subject matter often seems grim, the Murrays are ultimately optimistic, saying '"We always thought of our books not as a political statement, but more of a celebration of these businesses," . . . "We want to bring awareness to their struggles, and for people to go there and buy things."' (The Guardian) Join the Murrays, Rizzoli, and the event's co-host the Neighborhood Preservation Center in honor of these businesses and Store Front II on Monday.
More information on this event, which is free and open to the public, can be found at Rizzoli's website ; Store Front II will be available for purchase at the event, and is available now online from Gingko Press.