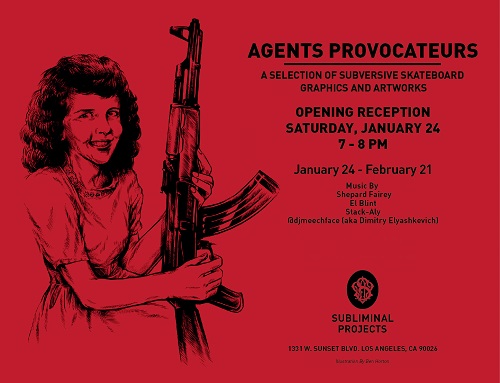 The Agents Provocateurs exhibit kicks off with a reception on January 24th and runs through February 21st at Subliminal Projects. Curated by author Seb Carayol and Erica Overskei, Agents Provocateurs brings together a selection of decks and fine art by artists including Alyasha Owerka-Moore, Andy Jenkins, Ben Horton, Cleon Peterson, Donny Miller, Ed Templeton, Marc McKee, Mark Foster, Michael Sieben, Nil Ultra, Sean Cliver, Todd Francis, and Winston Tseng.
According to Shepard Fairey, "If you've ever ridden a plank with four wheels, listened to the Misfits and Public Enemy, but never to rent-a-cops, you need to be at this show!"
For more information, visit subliminalprojects.com.
To find out more about the book Agents Provocateurs by Seb Carayol, click here.