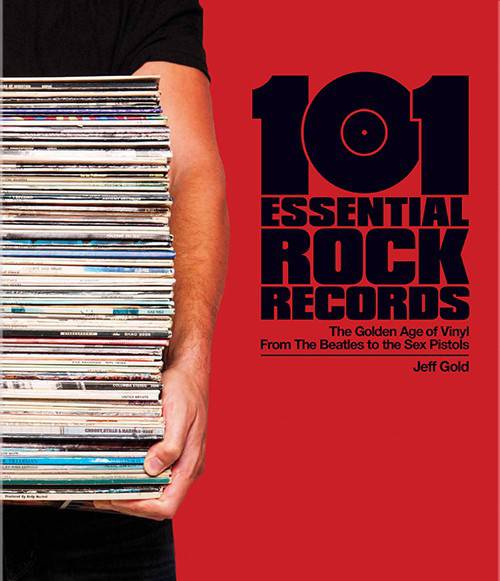 101 Essential Rock Records
The Golden Age of Vinyl From the The Beatles to the Sex Pistols
Jeff Gold's
Published by Gingko Press
260 pages, Hardcover
11 1/2" x 9 1/2" (241 x 292 mm)
443 color illustrations, English
ISBN: 978-1-58423-488-3
$39.95
This volume is a tribute to the vinyl album and celebrates 101 of rock's most influential records — from The Beatles' 1963 debut Please Please Me — through the Sex Pistols' Never Mind the Bollocks (1977.)
Alongside the big names — Bob Dylan, Jimi Hendrix, The Rolling Stones, Fleetwood Mac — are lesser-known but highly influential artists including Laura Nyro, The Flying Burrito Brothers, Captain Beefheart and The Stooges.  An essay on each album accompanies reproductions of the original vinyl cover artwork, with rare variations from around the world (including the first-ever Beatles LP, valued at $5,000, and an alternate issue of Bob Dylan's Freewheelin', worth twice that amount).
Also included are thought-provoking interviews with musicians who discuss the albums and artists who changed their lives.
Graham Nash describes meeting The Beatles at a 1959 talent show where they were billed as Johnny and the Moondogs and how, four years later, John Lennon and Paul McCartney sang him the just written Misery, "one voice in each ear."
David Bowie speaks eloquently about the Velvet Underground's influence, noting his band, Buzz, performed "I'm Waiting For The Man" as an encore at their last gig, and that "it was the first time a Velvet song had been covered by anyone, anywhere in the world.  Lucky me."
Iggy Pop writes of the profound impact upon hearing Van Morrison's no-holds-barred performance on the first album by Them, and his admiration for Frank Zappa and The Mothers of Invention's Freak Out, noting that opening for the Mothers "pushed me to be weirder faster."
Contributions from Susanne Vega, Peter Buck (REM), Johnny Marr (The Smiths), Nels Cline (Wilco), Devendra Banhart, Robyn Hitchcock, and more are also featured.
Special features include pictorial explorations of Jimi Hendrix's personal record collection, and a survey of censored album covers from throughout the rock era.
CONTRIBUTORS (FROM A-Z)
The Beatles – Please Please Me
Bob Dylan – The Freewheelin' Bob Dylan
The Rolling Stones – The Rolling Stones
Bob Dylan – Another Side of Bob Dylan
Davy Graham – Folk Blues & Beyond…
Them – Angry Young Them
The Byrds – Mr. Tambourine Man
Bob Dylan – Highway 61 Revisited
The Who – My Generation
Simon & Garfunkel – Sounds of Silence
The Rolling Stones – Aftermath
The Beach Boys – Pet Sounds
Bob Dylan – Blonde On Blonde
The Mothers of Invention – Freak Out!
Yardbirds – Yardbirds
John Mayall with Eric Clapton – Blues Breakers
The Butterfield Blues Band – East West
The Beatles – Revolver
Jefferson Airplane – Takes Off
The Kinks – Face to Face
The 13th Floor Elevators – The PsychedelicSounds Of
Laura Nyro – More Than A NewDiscovery
The Doors – The Doors
Jefferson Airplane – Surrealistic Pillow
The Velvet Underground & Nico – The VelvetUnderground
Grateful Dead – Grateful Dead
The Jimi Hendrix Experience – Are YouExperienced?
The Beatles – Sgt. Pepper's LonelyHearts Club Band
Moby Grape – Moby Grape
Tim Buckley – Goodbye and Hello
Pink Floyd – The Piper At The Gates of Dawn
Buffalo Springfield – Again
Love – Forever Changes
Cream – Disraeli Gears
Traffic – Mr. Fantasy
The Who – The Who Sell Out
Leonard Cohen – Songs of Leonard Cohen
The Velvet Underground – White Light/White Heat
Fleetwood Mac – Fleetwood Mac
The Incredible String Band –  The Hangman's Beautiful Daughter
The Zombies – Odessey & Oracle
Small Faces – Ogden's Nut Gone Flake
The Band – Music From The Big Pink
Grateful Dead – Anthem of the Sun
Jeff Beck – Truth
Big Brother & The Holding Company – Cheap Thrills
The Byrds – Sweetheart of the Rodeo
The Jimi Hendrix Experience – Electric Ladyland
Van Morrison – Astral Weeks
The Beatles – The Beatles (White Album)
The Pretty Things – S.F. Sorrow
The Pentangle – Sweet Child
The Soft Machine – The Soft Machine
Creedence Clearwater Revival – Bayou Country
Led Zeppelin – Led Zeppelin
The Flying Burrito Bros. – The Gilded Palace of Sin
MC5 – Kick Out The Jams
Sly And The Family Stand – Stand!
Neil Young With Crazy Horse – Everybody Knows This Is Nowhere
Alexander Spence – Oar
The Who – Tommy
Crosby, Stills & Nash – Crosby, Stills & Nash
Captain Beefheart & His Magic Band – Trout Mask Replica
Blind Faith – Blind Faith
Jethro Tull – Stand Up
The Stooges – The Stooges
Nick Drake – Five Leaves Left
King Crimson – In The Court of The Crimson King
Vashti Bunyan – Just Another Diamond Day
Fairport Convention – Liege & Leaf
The Move – Shazam
James Taylor – Sweet Baby James
Black Sabbath – Black Sabbath
Emerson Lake & Palmer – EmersonLake & Palmer
David Bowie – The Man Who Sold The World
Cat Stevens – Tea For The Tillerman
Carole King – Tapestry
Can – Tago Mago
Yes – The Yes Album
Joni Mitchell – Blue
The Allman Brothers Band – At Fillmore East
Genesis – Nursery Cryme
Faust – Faust
The Rolling Stones – Exile On Main St.
David Bowie – The Rise And Fall of Ziggy Stardust and the Spiders From Mars
Pink Floyd – The Dark Side of the Moon
Roxy Music – For Your Pleasure
Iggy And The Stooges – Raw Power
New York Dolls – New York Dolls
Big Star – #1 Record
Kraftwerk – Autobahn
Bruce Springsteen – Born To Run
Patti Smith – Horses
Ramones – Ramones
The Modern Lovers – The Modern Lovers
AC/DC – Dirty Deeds Done Cheap
Fleetwood Mac – Rumors
The Damned – The Damned
The Clash – The Clash
Talking Heads – Talking Heads: 77
Sex Pistols – Never Mind The Bollocks Here's The Sex Pistols