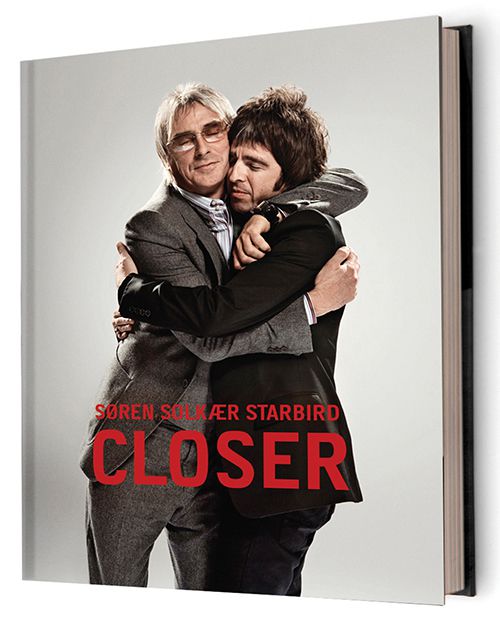 Closer (softcover)
Søren Solkær Starbird
Published by Gingko Press
248 pages, Softcover
9 3/4" x 12 1/2" (248 x 318 mm)
167 color illustrations and 22 b/w illustrations, plus 12 new photographs, English
ISBN: 978-1-58423-402-9
$35.00
This is the man who, over the past decade, has taken amazing photographs of many of the world's leading musicians. Closer is a collection of the works of Søren Solkær Starbird, a Danish photographer who has risen to astronomical heights in the world of international photography.
Starbird's portraits, ranging from deep and intimate studies to large format cinematic scenes shot in mind-blowing locations, have been published on the covers of the world's leading magazines: Q, GQ, Arena, Rolling Stone and Wallpaper.
Musicians featured in this volume include artists such as Amy Winehouse, Arctic Monkeys, Lily Allen, Franz Ferdinand, Kaiser Chiefs, The White Stripes, The Killers, U2, Oasis, Robert Plant, Metallica, Damon Albarn, Patti Smith, PJ Harvey, Björk, and Paul McCartney.
An exhibition of the works featured in Closer opened in Copenhagen, Denmark, and traveled internationally to prestigious destinations such as London and Beijing.
This new, revised edition contains up-to-the-minute photographs of artists such as Pete Doherty and Regina Spektor, and an additional 8 pages of content.
Photographs of Artists included from A–Z:
Adele
Alex Kapranos
Alex Turner
Allan Vegenfeldt
Amy McDonald
Amy Winehouse
Anders Trentemøller
Anthony Kiedis
Antony Hegarty
Arcade Fire
Arctic Monkeys
Aristazabal Hawkes
Beck
Bloc Party
Bobby Gillespie
Boy George
Brandon Flowers
Brian Joseph Burton
Bryan Ferry
Cage The Elephant
Candie Payne
Carl Barât
Cecilie Dyrberg
Christina Martinez
Corinne Bailey Rae
Damon Albarn
Dave Grohl
David William Kay
Depeche Mode
Duffy
Fela Kuti
Franz Ferdinand
Frederik Thaae
Fuck Buttons
Fyfe Dangerfield
Georg Holm
Glasvegas
Gnarls Barkley
Guillemots
Ian Brown
Interpol
Jack White
Jakob Høyer
James Hetfield
James Stelfox
James Walsh
Jay Kay
Jenny Wilson
John Cale
Johnny Marr
Jon Spencer
Jónsi Birgisson
Jónsi's shoes
Junior Senior
Kaiser Chiefs
Kate Nash
Keane
Kjartan Sveinsson
KT Tunstall
Larry Mullen Jr.
Liam Gallagher
Liam O'Connor
Lily Allen
Madonna
Manoj Ramdas
Manu Chao
Mariah Carey
Mark Ronson
Martha Wainwright
Matt Tong
Matthias Kolstrup
MC Lord Magrao
Metallica
Mette "Laks" Lindberg
MGMT
Michael Poulsen
Michael Stipe
Michele Stodart
Mick Hucknall
Mikael Simpson
Mike Skinner
Nicholas McCarthy
Noel Gallagher
Oasis
Patti Smith
Paul Simonon
Paul Thomson
Paul Weller
Pete Doherty
Peter Gabriel and Moby
Polly Jean Harvey
Powersolo
Primal Scream
Queens
Regina Spektor
Richard Ashcroft
Ricky Wilson
Robert Plant
Robert Trujillo
Rod Stewart
Romeo Stodart
Ronnie Wood
Rufus Wainwright
Sam Fogarino
Saybia's farm
Sergio Pizzorno
Sergio Pizzorno and

Sharin Foo

Simon Troelsgaard
Sir Paul McCartney
Søren Huss
Starsailor
Stereophonics
Stuart Staples
Sune Rose Wagner
The Blue Lagoon
The Dead 60s
The Good the Bad &

the Queen

The Killers
The Raconteurs
The Raveonettes
The Rifles
The Scissor Sisters
The Smiths
The Stone Roses
The White Stripes
The Who
Thomas Troelsen
Tina Dickow
Tom Chaplin
Tom Jones
Tom Meighan
Tony Allen
U2
Vampire Weekend
Vega