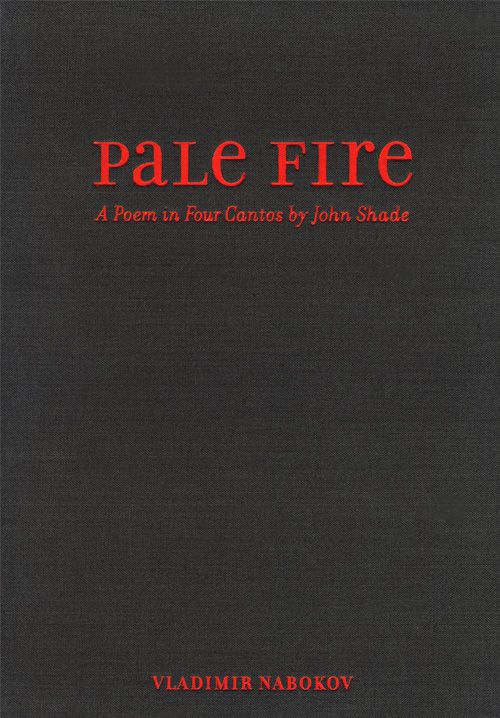 Pale Fire
A Poem in Four Cantos by John Shade
Published by Gingko Press
40 pages in book 1 - "Pale Fire," 48 pages in book 2 - "Pale Fire" - Reflections, 50 index cards pages, Softcover
7 1/4" x 10" (185 x 254 mm)
Paperback books in a deluxe box, 5 color illustrations, English
ISBN: 978-1-58423-431-9
$50
Many think Pale Fire is Nabokov's greatest novel. At its heart beats a 999-line poem, penned by its fictional hero, John Shade. This first-ever facsimile edition of the poem shows it to be not just a fictional device but also a masterpiece of American poetry, albeit by an invented persona.
In the novel, Shade's mad neighbor, Charles Kinbote, absconds with the poem, compiling an ostensible line-by-line commentary that largely ignores Shade's text and heeds only his own egotism. Kinbote's commentary, the bulk of the novel, is an insane comic triumph of would-be romantic self-celebration that cannot quite mute its undertones of desperation. But in this new publication we rescue the poem from the madman's hand, and provide even-handed commentary on Nabokov's most ambitious poem.
Nabokov authority Brian Boyd explains the poem on its and Shade's own terms, comparing its texture with the best of Shakespeare's sonnets. Poet R.S. Gwynn sets it in the context of American poetry of its time. Artist Jean Holabird, who conceived the project, illustrates key details of the poem's pattern and pathos.
Now readers can see the text for themselves, fresh from Shade's hands, before Kinbote commandeered it so shamelessly.
This attractive box contains two booklets — the poem "Pale Fire" in a handsome pocket edition and the book of essays by Boyd and Gwynn — as well as facsimiles of the index cards that John Shade (like his maker, Nabokov) used for composing his poem, printed exactly as Nabokov described them.