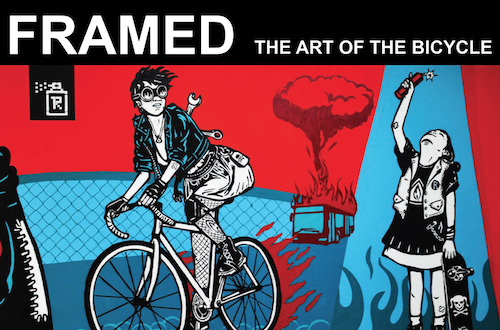 New
Framed
The Art of the Bicycle
Published by Gingko Press
272 pages, Hardcover
12 1/2" x 8 1/4"
English
ISBN: 9781584237556
$45.00
Not yet released, available Spring 2022!
Not Yet Published
Framed is a beautiful multidisciplinary anthology of art, design and ideas inspired by the humble bicycle. The work in Framed is divided into 6 sections: Urban Art, Paintings, Illustration, Sculptures, Handmade and Extras.
Urban Art presents large scale murals and public art from artists such as Ruben Sanchez (Spain), Alex Senna (Brazil), Artez (Serbia) and Chip Thomas (USA). Painting includes the works of creators besmitten by the bicycle for its form, function and symbolism, including; Andrew Hem (USA), Arie Dyanto (Indonesia), Katina Huston (USA), Yuji Yamada (Japan) and many more. Illustration crams in an equally impressive selection of creators; Bruno Mallart (France), Caleb Kozlowski (USA), Mateusz Urbanowicz (Poland/Japan), Little Friends of Printmaking (USA) and Petros Afshar (UK) to name a few. The Sculpture chapter is short and sweet, but begins most impressively with the work of world-renowned artist Ai Wei Wei (China), bookended by the equally talented and dynamic Wil Van Der Laan (Netherlands). Handmade features an interesting cross-section of actual bicycles with offerings ranging from dead-sexy speed machines to practical workhorses and radical concept bikes. The Extras chapter looks at the ascent of bike culture, performance art, urban planning and the incomparable trials rider Danny Macaskill.