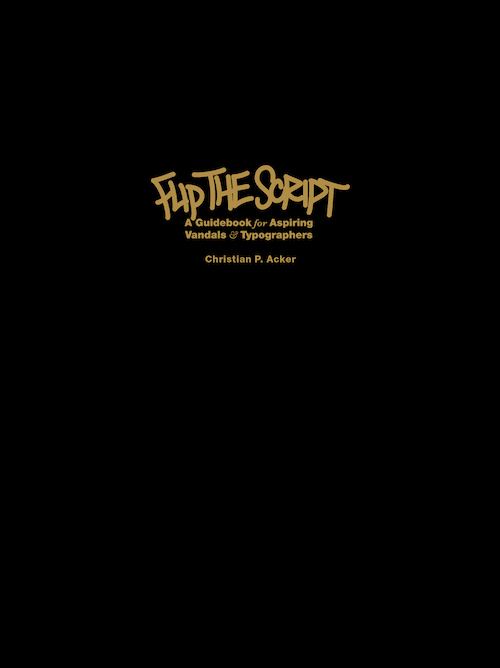 Bestseller
Flip the Script
Christian P. Acker
Published by Gingko Press
224 pages, Hardcover
7" x 9"
English
ISBN: 9781584234609
$45
Graffiti remains one of the last reservoirs of well-practiced penmanship. A unique feature of this publication is its catalog of graffiti writers' complete alphabets. We expect the uninformed observer shall come to recognize these letters for their raw beauty and skeletal forms and that the educated reader will appreciate the thought that has gone into the organization of this book.
In Flip the Script, author Christian Acker spent 10 years gathering a wide range of hand styles, contextualizing the lettering work of graffiti writers from around the United States. Through interviews and writing samples, Flip the Script offers deep access to some of the most talented writers in the country. These hand style heavyweights share their thoughts on subjects such as how they developed their talent and how the regional graffiti dialects differ. Acker presents the material in a clean, structured layout, evoking classic typography books. This revised, updated edition remains as relevant as ever.
Some notable contributors include: Chaz Bojorquez, BIG SLEEPS, MIKE GIANT, SLICK, SIVEL, POSE, AGUA, ESPO, TAKI 183, LSD Om, STAY HIGH 149, STAN 153, FREEDOM, KAVES, HAZE, CHINO, SURE, FAUST, COOL DISCO DAN, AREK, STAB, JASE, MAZE ONE, SR ONE, RELM, ALERT, RYZE, CAYPE, MES, LEAD, SEAZ, GREY, AMAZE, SMOKER, DUG ONE, SPIE, RENOS, DASH, OILER, and more.