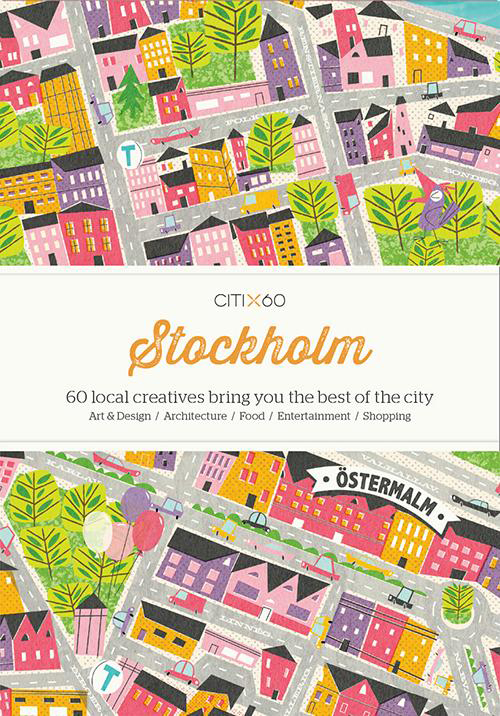 CITIx60: Stockholm (New Edition)
60 Creatives Show You the Best of the City
Published by Victionary
132 pages, 4 1/2" x 6 1/2"
Paperback with folding map cover, 350 Illustrations, ISBN: 9789887972693
$11.95
Stockholm combines a unique atmosphere of natural, rugged beauty with a vibrant city life. Creativity is found in every corner: just step inside the countless museums, restaurants, cafés, shops and nightclubs and see for yourself. Whether it's a one-day stopover or a longer trip, CITIx60: Stockholm city guide is your inspirational guide to places that only insiders of the stunning Swedish capital know and go. Initiated and edited by viction:ary, the pocket-sized guide sports an artistic edge with a city map jacket drawn by Gustav Dejert as well as practical info essential for a satisfying trip.
This updated guide includes additions such as:
• Carl Eldh Studio Museum: An artist's studio home with preserved busts/models and a stunning outdoor garden
• ACNE STUDIOS: A Stockholm-born brand for the effortless cool aesthetic
• Hornstulls Marknad: A summer flea market by the river for gastronomic delights/food trucks
About the Series: A unique collaboration with local creatives from selected cities, each CITIx60 guide points you to 60 hangouts loved by 60 stars of the cities' creative scene, covering architecture, art spaces, shops and markets, eating and entertainment. All featured artists and designers are at the cutting edge of what's on and when, and known for their accomplishments in fields across advertising, architecture and graphics, fashion, industry and food, music and publishing.