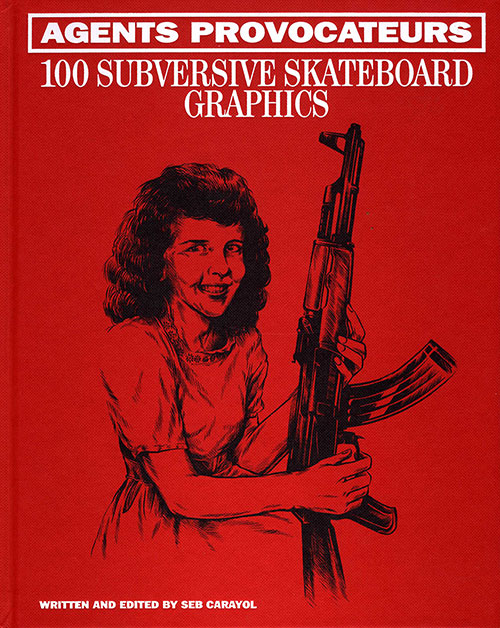 Bestseller
Agents Provocateurs
100 Subversive Skateboard Graphics
Published by Gingko Press
224 pages, Hardcover
8" x 10" (254 x 203 mm)
130 color illustrations, English
ISBN: 978-1-58423-527-9
$29.95
Skateboard graphics took a quantum leap in offensive potential after the sport was reborn aesthetically and otherwise in the '90s.
Artists such as Marc McKee, Todd Francis, Mike Hill, Michael Sieben, Ed Templeton, Sean Cliver, Moish Brenman, Fos, Ben Horton, Alyasha Owerka-Moore, Eli Morgan Gesner, Jeremy Fish, Brice Raysseguier, Johnny "Mojo" Munnerlyn, Alex Kramer, Todd Bratrud, Winston Tseng and others brought dark humor and politically incorrect topics to the forefront of their illustrations.
These artists intended not just to decorate and sell skateboards, but also to raise serious issues and skewer values, deliberately evoking reactions from viewers.
Agents Provocateurs asks new questions of this boundary-pushing artistic genre and its place over the years. Did it save skateboarding? Is it still possible to address such controversial topics twenty years later? What's left once all the envelopes have been pushed? These 100 boards and the artists behind them will form a clearer picture.