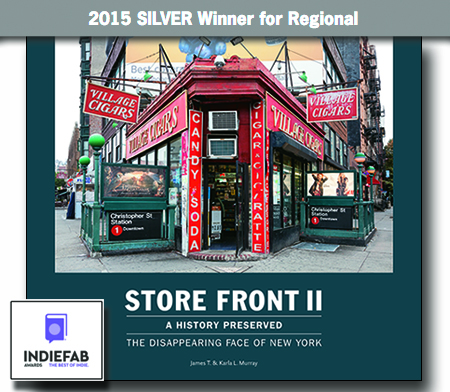 Congratulations to James and Karla Murray, whose latest book Store Front II: A History Preserved – The Disappearing Face of New York is the 2015 Regional Silver Winner in Foreword Reviews' INDIEFAB Book of the Year Awards. Store Front II was chosen from over 1,500 books entered in more than 60 categories for the INDIEFAB Awards. To see a full list of winners, visit Foreword Reviews' INDIEFAB Awards page here.
Store Front II was also just featured by Behold, Slate's photography blog, who has published a great article featuring the Murrays in discussion on New York's rapidly changing historic neighborhoods alongside choice photos from the book. Head to Behold's website to read the article.
James and Karla Murray have been capturing impeccable photographs from the streets of New York City since the 1990s; Store Front II chronicles their continued efforts to document a little-known but vitally important cross-section of New York's "Mom and Pop" economy. It's available here from Gingko Press.