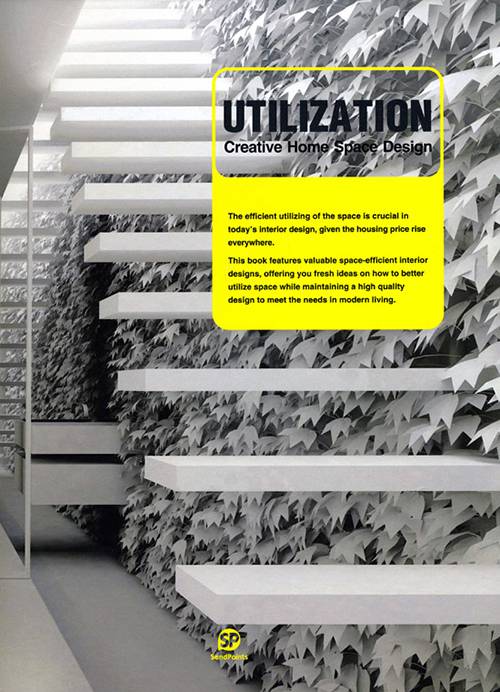 Utilization
Creative Home Space Designs
Published by Sendpoints Books Co., Ltd.
328 pages, Hardcover
9" x 11 3/4" (229 x 298 mm)
1,000 color illustrations, English
ISBN: 978-988-19610-0-6
$39.95
The nature of living space has undergone a profound shift in recent years. Changing societal values and the pressures of increased overcrowding have led to new paradigms in habitation. Indoor is out and outdoor is in as walls are removed to create great multi-use rooms where family and friends can come together for a variety of activities.
Facades of buildings are created out of stacked wall-to-wall window boxes — a dream for any inspired urban farmer. This shift from traditional to organic is radical, but healthy, creating adaptable spaces that are responsive to our natures as well as to the constraints of the new or converted buildings we inhabit – whether narrow, oblong, submerged or multi-story.
Contains a stunning selection of projects from around the world — all exemplary for their creative use of space — and includes diagrams and floor plans.
CONTRIBUTORS (FROM A-Z)
Akio Nakasa
Altius Architecture, Inc.
Anthill Constructions
Atelier Riri
Ateliers L. McComber
Baumraum
Bild Architecture
Bunzo Ogawa / Future Studio
Carl Turner Architects
d.c.a.
Emmanuel Combarel Dominique MarrecArchitects
Fábio Galeazzo
Francesco Di Gregorio, Karin Matz
HRuiz-Velazquez
i29 / Interior Architects
Katsutoshi Sasaki + Associates
Kraus Schoenberg
Matsunami Mitsutomo Architect
MCK Architects
Mizuishi Architect Atelier /Kota Mizuishi
modelina architekci
Maurice Padovani
Miel Architects
POINT Studio
PRODUCTORA
Resolution: 4 Architecture
SFARO Architects
Sharon Neuman
Sinestezia
Studioata
Spacespace
Takeshi Hosaka
Teo Hidalgo Nácher
UXUS
Votrongnghia Co., Ltd.
Word of Mouth
Yusuke Fujita / Camp Design Inc.