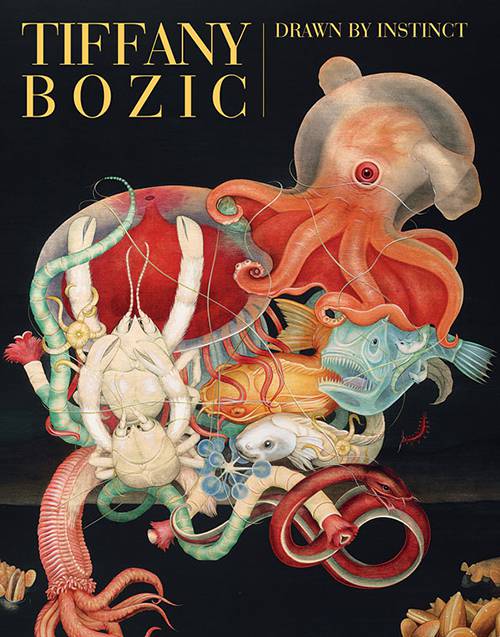 Signed by the Artist
Tiffany Bozic
Drawn by Instinct
Published by Gingko Press
192 pages, Hardcover
10" x 13" (254 x 330 mm)
150 color illustrations, English
ISBN: 978-1-58423-451-7
$45.00
Signed edition — limited quantities available.
As a result of her rural upbringing in Arkansas, Tiffany Bozic inherited a closeness to the natural world, a lifelong imprint that informs her work. Her patron saints, John James Audubon and Ernst Haeckel, provide the artistic inspiration and painstaking attention to details of morphology — whether real, or imagined.
There are fascinating discoveries to be made in her work, from new species of nudibranchs to unexpected life forms that blur the lines of flora and fauna. We also discern flashpoints through unlikely pairings, perceptions of danger in tranquil settings — a commentary on the fragility of life? Whatever the intent, there is a mesmerizing dialogue at work, encompassing both inner and outer worlds.
Questions are posed and meticulously explored, and perhaps in the process, we get a little closer to the answers. Take a glimpse into hidden worlds where the mysteries of life still abound!
Please note that due to limited quantities this book is not available for discounts; limit of one per customer.