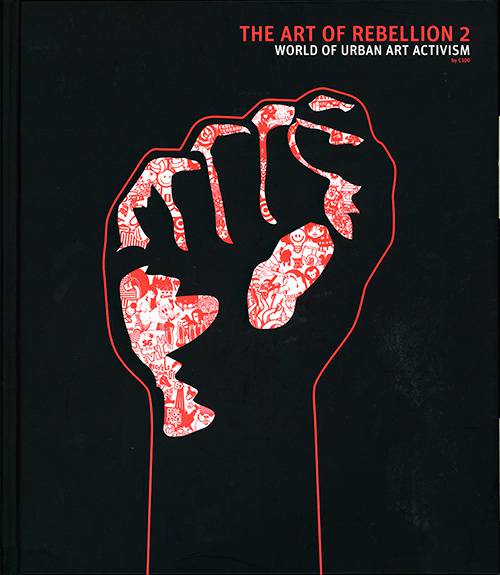 The Art of Rebellion 2
World of Urban Art Activism
Published by Publikat
208 pages, Hardcover
9 1/2'' x 11'' (242 x 280 mm)
643 color illustrations, English
ISBN: 978-3-9809909-4-3
$39.95
Art of Rebellion 2 features an up to the minute international survey of street art, spotlighting dozens of new and unknown protagonists alongside many well known and respected artists who have been at it for years.
Since the publication of the first volume, there has been a surge in street art activity and a growing awareness of the art form in the public eye; this volume takes the reader on a lush visual journey through that artistic explosion and features tons of new work with original styles, techniques and intent.
The book also presents a selection of the best exhibitions and collaborations between artists and apparel and fashion brands.
CONTRIBUTORS (FROM A-Z)
56K
Adam Neate
Akay
Akayism
Al the artist
Anonymous
Asbestos
L'Atlas
Barsky
Bäst
Blek le Rat
BLU
Boris Hoppek
CKE
Constantin Demner
Dan Witz
Darius & Downey
Dave the Chimp
Derrick Hodgson
DHM
Dist
DOMA
Downey
Dr.D
Eine
Ellis G
ElPussycat
Eltono
Erosie
Espo
Faile
Heavyweight (HVW8)
Hietzing station
Influenza
Inkunstruction
Jeremy Fish
Jon Burgerman
Kami
Kid Acne
Klisterpete
Koralie
Marius Waras, M-City
Matt Sewell
Microbo
Miss Van
Rep 1
Roadsworth
Ryan Watkins-Hughes
Sasu
Shepard Fairey
Skewville
Skwerm
Stak
Swoon
The London Police
The Plug
The Yok
Thundercut
Tout va Bien
Urban Blooz
Zevs
and more…