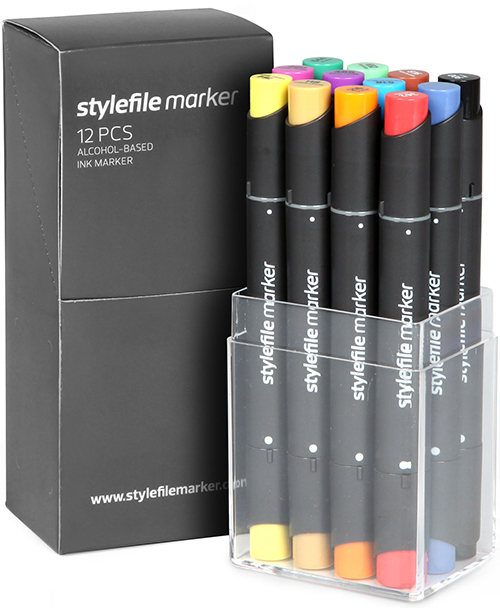 Stylefile Marker – Main Set A
Set of 12 Alcohol-Based Ink Markers
Published by Publikat
N/A pages, ISBN: (UPC)4-260216-143007
$29.95
Created by the premier graffiti art publisher Stylefile, the Stylefile Marker Classic Set is an excellent tool for any art professional, student, or dedicated enthusiast. With a resilient fine or chisel tip at each end and a variety of brilliant colors, it guarantees uncompromised results no matter what the project, be it manga or comic art, professional illustration, architectural renderings, fashion design, sketching, or just indulging in high-quality coloring work!
Details:
Ergonomic design ensures a comfortable hand-feel and excellent haptics
Roll-stop, color and tip markings on the caps
High quality tips from the market leader
Constant ink flow, saturated colors
Alcohol-based ink without Xylene
Variable line widths
Refillable
Main Set A includes 11 basic colors, plus one black marker.
Colors:
118 (yellow ochre)
164 (lemon yellow)
216 (orange)
362 (carmine)
460 (azalea purple)
466 (deep violet)
518 (cerulean blue)
552 (cobalt blue)
644 (viridian)
652 (vivid green)
816 (natural oak)
900 (black)