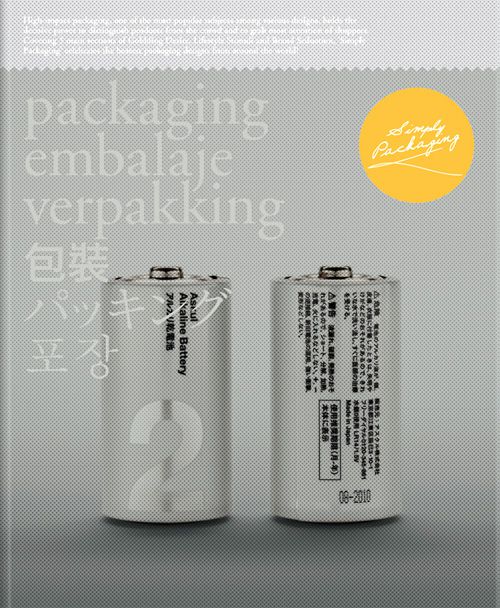 Simply Packaging
Published by Victionary
240 pages, Softcover
8 1/4" x 10" (210 x 255 mm)
212 color illustrations, English
ISBN: 978-988-98229-5-8
$39.95
Creating high impact packaging is a critical element in the merchandising of any product. Not only must packaging grab the attention of consumers, it must help to establish brand identity and make a lasting impression.
A successful package design can transform an ordinary product into an exciting one. Not only must shape, graphics and color choices convey the right feeling, they must also be compatible with retail spaces where they will be displayed.
Simply Packaging provides examples of the hottest packaging design from around the world employing the most sophisticated technology to traditional handcraftsmanship for cosmetics, food and beverages, CD and album covers, POP displays and more.
With full color spreads and explanation of materials. Simply Packaging is the latest title in Victionary's SimplySeries™ including Simply Material and Simply Pattern.
CONTRIBUTORS (FROM A-Z)
29 Agency
3group
3KG
abraka design (Traffic)
Acne Art Dept
Amore
aruliden
Ash Spurr
Bas Brand Identity
BaseDesign
Bibliothèque
biz-R
Bluemark Inc
Bread and Butter SA
Broadhong
BVD
C plus C Workshop Ltd.
Carlo Giovani Studio
Checkland Kindleysides
Chhun Tang
CoDesign Ltd
Daniella Domingues
Danny Goldberg Design
David Barath Design and  VisualGroup Budapest
Design SangSang
Designworks
DFraile
Dimaquina
Dowling Design & Art Direction
DRAFT Co., Ltd
duoido
Elisabeth Soós
espluga+associates
FormaFantasma
H55
Hatch Design
Hawaii
Help Remedies
Homework
Hör∂ur Lárusson
ico design consultancy limited
Imagefed
Incorporated
Creative Unit
Jamie Wieck
Jesse Kirsch
JOYN:VISCOM
Julia Hoffmann
jungeschachtel
Kinetic
Knoend LLC
Little Fury
Marque
Mash
Maxime Delporte
Mayuko Hari
Megan Cummins
Mibo Ltd
Michael Young Ltd
MOMENT DESIGN STUDIO
Naoto Fukasawa
Nikki Farquharson
Nippon Design Center, Inc.
NONAME NOSHOP
Non-Format
ODD
OMD Contemporary Design Terminal
Pearlfisher
Purpose Ltd
R Design
Ryszard Bienert
SAMURAI Inc.
Santos&Karlovich™
Sarah Cihat
SEA
SEED Creative Consultants
Shya-la-la Production Limited
Slingshot Inc.
Small
Son of Tam
Stiletto nyc
Stockholm Design Lab
Studio Copyright
Studio Kanna
The Creative Method
The Partners
Thorbjørn Ankerstjerne
Tom Dixon
Turner Duckworth
Undoboy
Waldo Pancake
Why Not Associates
Williams Murray Hamm
ZNP Creative Co., Ltd