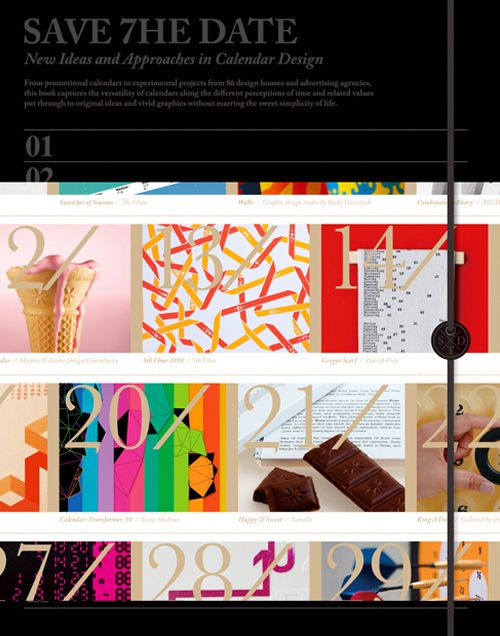 Save the Date
New Ideas and Approaches in Calendar Design
Published by Victionary
256 pages, Hardcover
7 1/2" x 9 1/2" (191 x 241 mm)
500 color illustrations, English
ISBN: 978-988-19438-2-8
$39.95
Indispensible artifacts of our material and virtual culture, calendars help us to organize our increasingly complicated lives within the framework of the passage of time.
We depend on them as personal flash drives to contain and retrieve the overflow of data we have resigned to not committing to memory. But, whether on our walls, desks, or desktops — they rarely stray from anticipated or traditional forms.
Save the Date showcases groundbreaking designs for calendars and planners, where aesthetic concerns compete with the temporal to create new and often startling combinations. No longer largely "invisible" or "disposable," the calendars of today demand pride of placement in our homes or workplaces to be followed by a graceful retirement as collectible or covetable "objets d'art."
Break the grid!
CONTRIBUTORS (FROM A-Z)
5th Floor
Accept & Proceed
Adeline Tan
Airside
Aleksander Shevchuk
(with Graphic Productions)
Alpha
ALVA DeisgnStudio
Andrew Ackroyd
Art. Lebedev Studio
ARTIVA DESIGN
Ben Whitesell
Benjamin Koh J.R.
Bubble Calendar LLC
BUTTER.
Caitlin Keegan
Chris Page
Couple
Crispin Finn
Dana Craft Design
DEMIAN CONRAD

DESIGN

DJ DSL
Dominic Wilcox
Dorogaya design studio
Enrico Azzimonti
Equus Design Consultants
Pte Ltd
Erick Fletes
Flora Douville
Foreign Policy Design Group
FOUNDRY
Futura 2/2 Macedonia
ghin.co.uk
Graphic design studio

by  Yurko Gutsulyak

Hallgrímsson
iHow Graphics Design Office
Itai Miller
itis edition.
Iuliana Alimova
Jekyll & Hyde
Johann Volkmer
Jung von Matt AG
Kanella
Katsui Design Office
Kostya Martsenkivsky
Laboratorium
Lauren Hunt
Mash Creative
Mr. Design Co.
Mr. Tom Design
Mytton Williams Design 

Consultancy

Niels Kjeldsen Design
NOTHING design group
Ontwerphaven
Oscar Diaz Studio
Patrick Frey
Philip Luscombe
Plural
Qaa'im Abdullah

Goodwin

Qube Studio Pte Ltd
Re+g(Replug)
Robert Feyereisen
Ryan Crouchman
Ryohei Yoshiyuki to job
SeeSaw Designs
Selin Estroti
SILNT
Smyk
Sonner, Vallée u.

Partner
Stanley Ruiz
Studio Kluif
Studio On Fire
Studio8 Design
Studiowill
Sublima Comunicación
Sudeshna Pantham
Susanna Hertrich
Sven Ellingen
Sveta Shubina
The Chase
The Made Shop
The Mouscacho by 

Jasho Salazar

Tim Hansen
Timi Everent
Tomato Kos1/4ir
Verlag Hermann

Schmidt  Mainz

Vik LLC
Wormsinfected