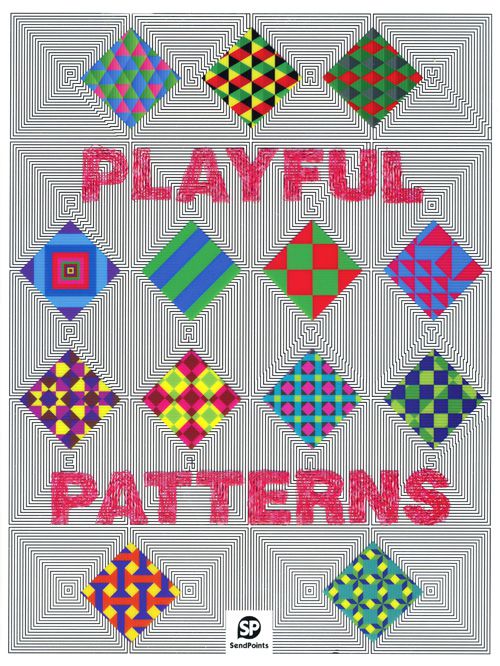 Playful Patterns
Published by Sendpoints Books Co., Ltd.
280 pages, Hardcover
8 3/4" x 11" (222 x 279 mm)
800 color illustrations, English
ISBN: 978-988-19610-9-9
$39.95
From earliest development we are hardwired to recognize patterns in our surroundings. Ostensibly a survival mechanism, this skill has been taken over by aesthetic considerations in recent generations, leading to an explosion of graphic imagery.
Patterns cover the walls we live in, the streets we walk on, and the products we consume. Sometimes translating our instinctual memories, other times our playful yearnings, the combinations of color, shape and form are endless. With the capacity to comfort or provoke, use of pattern or motif in design is a formidable weapon in the hands of a skilled designer.
Playful Patterns presents some of the best pattern design of recent years, used to pro¬mote brands and products on bags, clothing, posters, packaging, and more.
CONTRIBUTORS (FROM A-Z)
1 + 1 Grafik Design
10 Years of TCH
5HOME Hotel
Aakkoset
Ajandek Terminal
Almighty
Art Directors Club

Germany

Arts Santa Monica
Ausonia
Barcelona Direction

Exhibition

Branding Oblique
Bruken
Camerata de Lausanne
Candy Light
CODE International

Poster  Competition

Constitutional Court

of the Republic

of Slovenia

Cyprus Participation

Biennale di 

Architectura di Venecia 2010
Dumoulin Bicyclettes

Branding

EcoProtein
EKKO Identity
ENNA Energy Drink
EVGE Awards 2011 Identity
Getner
HEMU
Hotel Trafohaus
House of Cosy Cushions 

and Katie Kim

How to make people

desire less

Hunter Game
HYPO Art Supermarket
Identity for Event
Identity Helder
Jaleo Restaurant

Las Vegas

Kafathaki Cheese
King Nargile
Kluwer Memo Covers
Les Marionettes – "Meet

My Generation" EP
Lettera 22
Maminena
Matchwing
Mathias Tanguy

Visual Identity

Melt
Melvita
Miro and Catalan

Culture

Muuk Studio
No Yes No Album 

Cover Art Generator

Novum Cover
OVG
Pass it Forward

Christmas Cards

Pavlo Boiko
Philippe Guignard
POK
Portes St.-Francois
Prestance
Pulsazione Cosmetics
Realisons Montreal 

Visual Identity

Ritratto
Saks Fifth Avenue
Sofi Handmade Soaps
Study Packaging
Szelet
The High Line
Thorsteinn
Un festival a Villereal
Urban Attitude Identity
Wasabi Emotion Pills
West Elm Soaps
Wo Hing General Store
Zumak, Peruvian Pisco