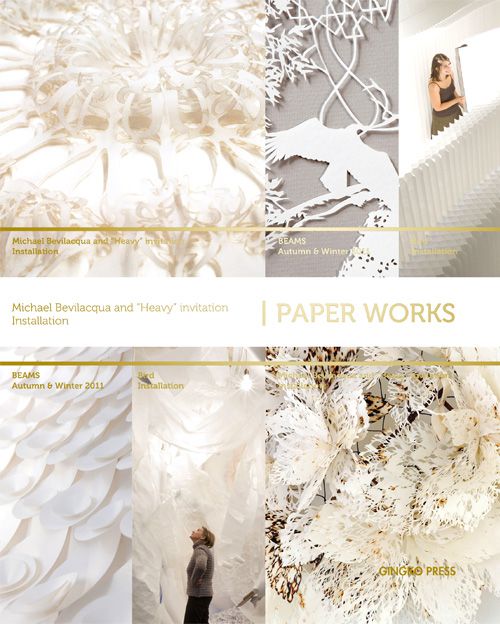 Bestseller
Paper Works
Published by Gingko Press
256 pages, Softcover
8 1/4" 10 1/4" (210 x 260 mm)
Flexi-bound, 900 color illustrations, English
ISBN: 978-1-58423-432-6
$34.95
Paper has long been a source of inspiration for artists and designers around the world, from classic Mexican papel picado to the art of origami which originated in Japan in the 17th century AD to the much-practiced kindergarten craft project of the pop-up greeting card, which has recently been turned into a fine art by respected contemporary artists such as Robert Sabuda and Nikki McClure.
Paper Works is a thorough visual exploration of the multitude of ways in which paper can be transformed and sculpted into abstract or realistic designs. The beauty of the medium partly lies in its delicacy, with fine intricate cutwork created by every method from laser cuts to X-acto knives.
This title features everything from sculptural carved book arts and installation art spanning entire rooms to stunning avant-garde paper couture fashion and beautiful all-white animal masks reminiscent of classic Carnival attire. Artists include Jen Stark, Veasyble, and Paula Arntzen.
CONTRIBUTORS (FROM A-Z)
24° Studio
Adriane Colburn
Amy Lau
Anastassia Elias
Andy Singleton
Annie Vought
Ashburn Eng
Béatrice Coron
Bianca Chang
Blast
Bovey Lee Studio
Brian Dettmer
Cecilia Levy
Charles Clary
Charlotte McGowan-Griffin
Christa Donner
Claire Brewster
Clare Pentlow
Daniele Papuli
Elisabeth Lecourt
Estudio Rosa Lázaro
Flóra Vági
Grégoire Alexandre
GAIAdesign
Gonçalo Campos
Hattie Newman
Hina Aoyama
Hiroko Matsushita
Ingrid Siliakus
Jacob Dahlstrup Jensen
Jeff Nishinaka
JK Keller
Johnny Kelly
Jolynn Krystosek
Julien Vallée
Jum Nakao
Kapsule Kollektive
Katsumi Hayakawa
Kris Trappeniers
KRONA & LION
Kylie Stillman
Kyouei Design
Laura Cooperman
Lauren Clay
Lee Huey Ming
Linus Hui
Liz Jaff
Lizzie Thomas
Lydia Hirte
Maryse Dugois
Mia Pearlman
Michael Kukla
Michihiro Sato
Mikito Ozeki
Mikkel Wettre
Miriam Londoño
Molly Bosley
molo studio
Nathalie Boutté
nendo
Nikki Rosato
Packaging UQAM
Paper Donut
Paper-Cut-Project
PAPERSELF
Pat Shannon
Peter Callesen
Petra Storrs
Postlerferguson
Rebecca Wilson
Robert The
Sangreeta Sandrasegar
Sarah Kelly
Sarah Morpeth
Scholten & Baijings
Shinichiro Ogata
SILNT
Simon Schubert
Sloppy James
Stephanie Beck
Stephanie Chu
Stuart McLachlan
The Makerie Studio
Thomas Hillier
Tine De Ruysser
Toby Edwards
Tokujin Yoshioka
Tommy Støckel
TORAFU ARCHITECTS
Ufocinque
Yo Shimada
Yoshinobu Miyamoto
Yu Jordy Fu
Yuko Takada Keller
Yuriko Kaneko