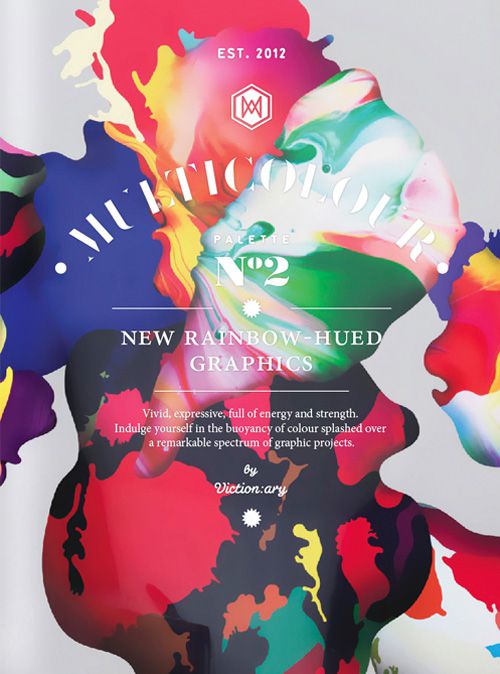 Palette No. 02: Multicolour
New Rainbow-Hued Graphics
Published by Victionary
256 pages, Softcover
7 1/4" x 9 3/4" (185 x 250 mm)
350 color illustrations, English
ISBN: 978-988-19439-0-3
$45.00
A fitting companion to Viction:Ary's first Palette book, Black & White, Palette No. 2: Multicolor looks at the most engaging use of color in print design, packaging, installations, fashion, and architecture.
While other color books have focused on the use of a single color in a design, Palette No. 2: Multicolour concerns itself with the harmonious or discordant — but always stunning — interplay of multiple colors in a design. The sheer resourcefulness of the featured designers is evident in this collection of cleverly manipulated graphic elements and forms.
Palette No. 2 – Multicolour features spectacular color applications for stationery, advertising, promotion material, book design, restaurant interiors, re-imagined color wheels, delicate yarn installations, tea canisters in every Pantone shade, architecture exteriors — even an entire neighborhood of multi-story buildings in Brazil — and much more.
CONTRIBUTORS (FROM A-Z)
Alan Chu
Albert Ibanyez
Alex Dalmau
Anagrama
Andrea Ataz
Anymade Studio
Aoki
artless Inc.
Artworklove
Ascend Studio
Atipus
ATMO Designstudio & FELD | studio for digital crafts
Base Design
Bleed
Blok Design
boymeetsgirl
Brighten the Corners
Browns
Build
Bunch
Bureau Collective
carnovsky
Chris Golden
Claudiabasel
Craig & Karl
Daikoku Design Institute
Daisy Balloon
Derek Kim
Emmanuelle Moureaux Architecture + Design
ENZED
Fabio Novembre
Fanette Mellier
FRVR
Grandpeople
Happy F&B
Helmo
Hey
Heydays
Holt
I LIKE BIRDS
Igor Zimmermann
IS Creative Studio.
JJAAKK
Jonathan Finch
Kerstin zu Pan
Kontor Kontur
Kurppa Hosk
L2M3 Kommunikations-design GmbH
La Tigre
Le Creative Sweatshop
Leif Podhajsky
Lemongraphic
Liquorice Studio
Lo Siento
macmeier
Mad Keen Design & Art Direction
Matilda Saxow
Metaklinika
Midnight Rendez-Vous
Mind Design
Mutabor Design GmbH
My Wet Calvin
Paco Peregrín
Palatre et Leclere Architectes
Paolo Palma
Paul Sangwoo Kim
Penique productions
Pentagram
Post Projects
Present & Correct
Purpose
R.I.S. Projects
Raffinerie AG für Gestaltung
Raúl Iglesias & JesúsLatuff & Luis Novero
Raw Color
Resort Studio
Reynolds and Reyner
Sara Cwynar
SEA
Second Story Interactive Studios
Simon Laliberté
Studio Brave
Studio Dumbar
Studio Iknoki
Studio Laucke Siebein
Studio Lin
Studio mw
Studio wilfredtimo
Sueh Li Tan
Thomas Bræstrup
Thompson Brand Partners
Tim Wan
Toormix
TORAFU ARCHITECTS
Torsten Lindsø Andersen
Txell Gràcia Design Studio
ujidesign
viction:workshop ltd.
WAAITT™
Wanja Ledowski
Your Friends
Zim&Zou