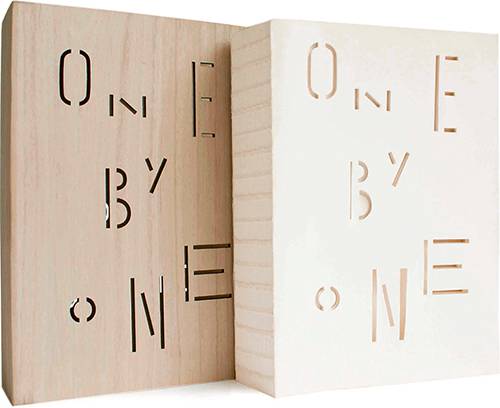 One by One
Graphic Designers of the World Today
Published by Sendpoints Books Co., Ltd.
650 pages, Hardcover
7 1/4" 10 1/4" (184 x 260 mm)
hardcover with laser-cut wooden slip case, 800 color illustrations, English
ISBN: 978-3-9814557-0-0
$120.00
Imagine a giant book of lists compiled for the design profession. Populate it with the most respected names in the industry, along with a slew of highly talented emerging familiars. Organize the collection alphabetically by country, and for each designer provide contact information, a brief biography and a condensed portfolio. Enclose the volume in a striking laser-cut wooden slip case and you have One By One.
This comprehensive who's who results from extensive research and a well-groomed curatorial eye. Boasting 3,477 distinguished works by 477 graphic designers across 47 countries, this collection stands alone for its breadth of subject matter and depth of focus.
As apt a source of inspiration as it is a wellspring of information, One By One hardly exists as a directory alone. Work in print, materials, typography, packaging, architecture and computer modeling are all at home here.