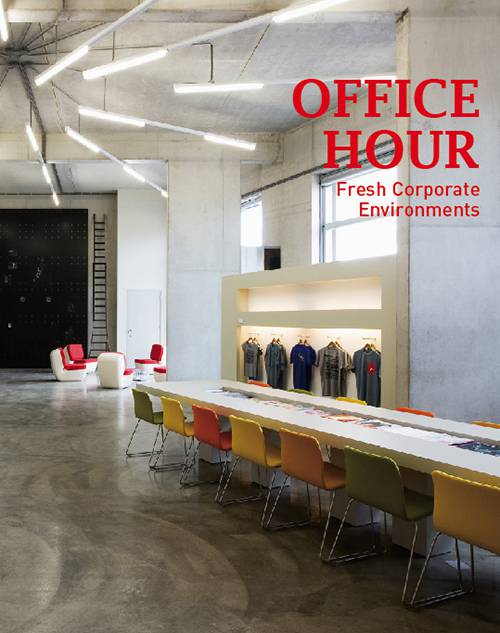 Office Hour
Published by Gingko Press
272 pages, Hardcover
9" x 11 1/2" (229 x 286 mm)
700 color illustrations, English
ISBN: 978-1-58423-476-0
$45.00
A far cry from the dull cookie-cutter cubicles of years past, today's designed offices are entirely unique spaces reflecting both company philosophy and identity.
While responding to the specific needs of the organization and employees, the offices featured in Office Hour are gorgeous, one-of-a-kind, playful, colorful, and collaborative spaces that completely redefine the word "Office."
Replete with photographs and floor plans of offices including such elements as "Company Gym," "Inspiration Library," "Concert Venue," a "Secret Bookcase Door," "Bike Parking," "Lunch & Card Table," and "Game Lounge," this title is the most comprehensive volume of groundbreaking office design to date and an invaluable resource book for designers.
Effective spatial organization is balanced with a burgeoning respect for employees' need to have fun while doing a job they love — and the increased morale that results. The gorgeous projects featured in Office Hour carefully consider elements such as lighting, color, and materials; entire offices are built of recycled cardboard, and materials such as wood and metal are reinvented within these innovative, immersive, and completely unified spaces.
CONTRIBUTORS (FROM A-Z)
Albert France-Lanord 

Architects

Alexey Kuzmin
architecture3s
arquitectura X
Because We Can, Inc.
Caterina Tiazzoldi
COEN design agency
Coordination Asia
Corvin Cristian
CoudamyDesign
CUBE architecten
DESPACHO COUPE

S.L.P.

Dom Arquitectura
Electric Dreams
elisavalero
Estudio Mytaki
FORM US WITH LOVE 

design studio

HASSELL
i29 interior architects
Iosa Ghini Associati srl
Ippolito Fleitz Group
Jackie-B
Jos Roodbol
Kamat & Rozario

Architecture

Lehrer Architects
MAS ARQUITECTURA
Mathieu Lehanneur
Maurice Mentjens 

Design

MMASA Studio
modelina architektura 

& consulting

NAU
nendo
Origins Architecture
PS Arkitektur
Rios Clementi 

Hale Studios

SELGASCANO
Sergey Makhno
SHH
SPACE
Studio BA
Studio Joost van

Bleiswijk

Studiofibre
studioquint
TERVHIVATAL
Tham & Videgård 

Arkitekter

upsetters architects
za bor architects