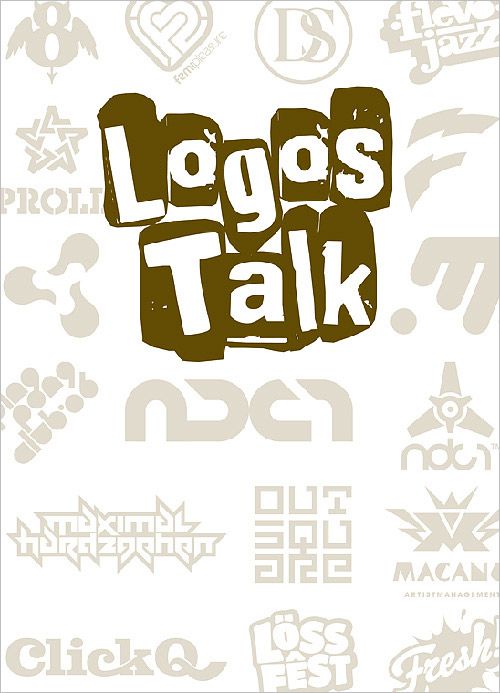 Logos Talk
Published by Gingko Press
264 pages, Softcover
7 1/2" x 10 1/2" (191 x 267 mm)
flexi-bound with DVD-ROM, 1,500 illustrations, English
ISBN: 978-1-58423-444-9
$39.95
An instantly identifiable logo is crucial when competing for a customer's allegiance and undivided attention. In some cases the vibrancy of color provides the overwhelming theme, in others the subtle contrast of black and white.
Inspiration is drawn from a number of sources depending on the nature of the design. In heavily typographic icons, graffiti or street art may provide the illumination, uncovering the influence of popular culture on today's graphic landscape.
In pictorial logos, the spark can be drawn from as wide a variety of sources as the products or services themselves, aspects of relevant symbolic or material culture, the human figure or the natural world. But regardless of the seed, a successful logo must have that special something that elevates it from the commonplace to the unforgettable.
Logos Talk collects a staggering variety of fresh logo designs from around the world in an appealing format with DVD included.
CONTRIBUTORS (FROM A-Z)
Alphabet Arm
Kaloian Toshev
Litoimagen
Mikhail Karagezyan
Johana Pscheidtova
Anton saputra  Felix Susanto Edison Chow
Mike Speero
STATE (formerly known as Techneo)
Gustavo Vandoni
Icono Seis SA de CV
Dmitry Galsan
Arnas Goldbergas
Mark Brooks
Paul Gardner
Joan Pons Moll
Kamila Szadaj
Richard Baird
Sebastian Gagin
Irina Batkova
Rudy Hurtado  Global Branding
Vladimir Mijatovic
Marco de Obaldia
Peter Vasvari
Giedrius Cibulskis
Ruslan Khasanov
Philipp Zurmoehle
Tadas Vincaitis  (nickname: Plugas )
Michele Zamparo
Richard Scott
Jovan Obradovic Shpira
Scott Lambert
Fabian Marchinko
LukeSF
Srdjan Kirtic
Wizmaya Design Studio
Lundgren+Lindqvist
Muamer ADILOVIC
Florin Capota
Artem Sukhanov  (aka Klood)
Logoniseme
Admix Designs
Bao Nguyen
Przmyslaw Pustelny
Alex Matveev
Nils Carlson
Stig Tafto
Cleber Faria
Miroslav Vujovic
Ivaylo Nikolov
Denis Wong
Stefan Vasilev
KRFX KZKMlll
Shenzhen THREE advertisement Co Ltd
Emilia Fiedorowicz
Evgeny Grigoriev
Victor Sokolov
Pyramis
Pitertsev Mikhail
zazdesign graphic lab
Craig Scott Russell
Andrea zeman
Ed Price
Anthony Lane
Emrah Eski