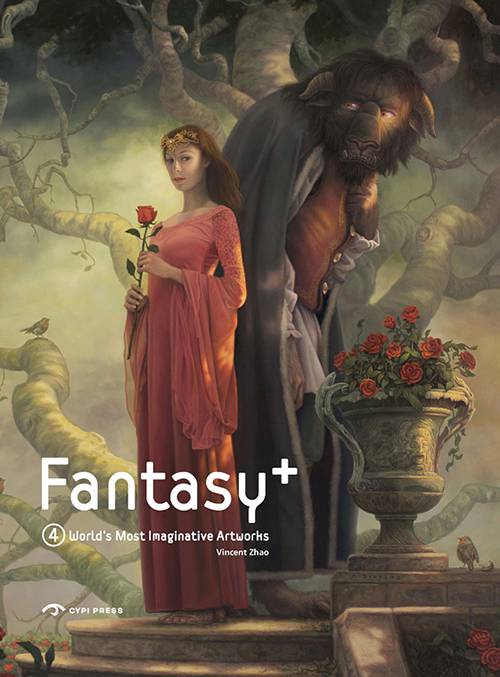 Fantasy+ 4
The World's Most Imaginative Artworks
Published by CYPI
192 pages, Softcover
9 1/4" x 12" (235 x 305 mm)
flexi-bound, 300 color illustrations, English
ISBN: 978-1-908175-01-4
$35.00
Fantasy art, like literature, continues to have a growing resurgence as consumers of popular culture long for a respite from today's forced reality. For this fourth volume of the highly successful Fantasy+ series, the selected artworks are arranged thematically according to the focus or manifestation of the work.
The international roster of commercial artists featured offers the very best in imaginative art created for movies, animation, publications and games. This volume gives also voice to the talented sculptors in the industry, with 3-D models and garage kits presented for the first time.
Thoughtful commentary and interviews enhance the work and inspire, providing rich tips and insights for professionals and would-be artists alike.
CONTRIBUTORS (FROM A-Z)
Advertising:
7th orange
Brian Despain
Chris B. Murray
Christophe Vacher
Daxue Ding
Daybreak
Eric Joyner
Lucas Gracian
Night·Eruda
Patrick J. Jones
Scott Brundage
Non-advertising:
Anthony Weinstock
Carlos Ramon
Xiaopeng Xing
Book Illustration:
Allen Douglas
Benjamin von

Eckartsberg

Dragan Bibin
Ed Binkley
Grim Wilkins
Michael C. Hayes
Peter Ferguson
Tomislav Torjanac
Volkan Baga
Dear Montoya
Peter Diamond
Karen Hsiao
Ya Ya
Yan Zhao
Yi Ma
Modeling:
Mona Studio
Popovy Sister
Wei Chen
Games:
Adrian Smith
Boren Shi
Haitao Su
Maoyong Liu
Paul Sullivan
Peter Oedekoven
Ralph Horsley
Steven Stahlberg
Terese Nielsen
Xuan Zhou