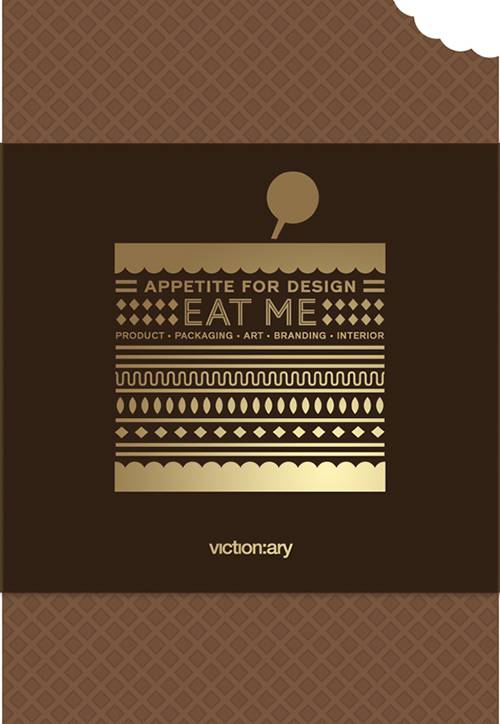 Eat Me: Appetite for Design
Product. Packaging. Art. Branding. Interiors.
Published by Victionary
248 pages, Hardcover
7 1/2" x 9 3/4" (191 x 248 mm)
500 color illustrations, English
ISBN: 978-988-19438-5-9
$39.95
The packaging of food and its implements has takes many forms throughout the ages — from the sanitary to the recognizable, the utilitarian to the avant-garde. While an absolute necessity for human life, the aesthetic and cultural requirements of food have often been overlooked.
New trends and materials have led to a unique opportunity for the packagers of today — to enhance and elevate one's culinary experience by speaking to our minds as well as our stomachs.
Often reflective of a company's core values and seldom a happenstance, great packaging can merge many considerations of lifestyle — from the artistic to the sustainable — into one cohesive statement or identity. Some provide interactive escapes, others a call to presence, as investigating the vessel itself becomes an act of ceremony.
Explore the latest trends through numerous up to the minute case studies, each distinct with regards to product, materials, branding requirements and consumer experience.
CONTRIBUTORS (FROM A-Z)
5.5 Designers
AbelPartners Design 

Studio

Access Agency
Aïssa Logerot
Alex Creamer
Alt Group
Anagrama
Après Ski
Artek oy ab
Asylum
At Pace
Atipus
Atsuhiro Hayashi
BERG
Bettina Nissen Design
Bompas & Parr
Brendan Jamison
Brian Danaher
Burak Kaynak
Burgerac
Carl Kleiner & 

Evelina Kleiner

Chocolate Editions by

Mary & Matt
Christopher Boffoli
CoDesign Ltd.
Cornwell
Couple
Creasence
Dan Kenneally
Demelza Hill
Depot WPF
DEUTSCHE & JAPANER 

Creative Studio

Eduardo del Fraile
Eszter Imre
Gauthier Designers
Glasfurd & Walker
HAF
HAMILTON TURKSOY
Hasegawa Yoshio
Henry Hargreaves
imm Living
Inhouse Design
Jasmin Schuller || 

Visual Entertainment

Jesse Harris
Jonas Wagell Design & Architecture
Judith Klausner
Kabiljo Inc.
KaCaMa Design Lab
Kinetic Singapore
Korefe
Kyle Bean
Laikingland
Linus Morales
Ludvig Bruneau Rossow
MAEZM
Masahiro Minami 

Laboratory

MENOSUNOCEROUNO
Method
Mint
Moving Brands
Nelson Associates
NOSIGNER
Ohmine Shuzou Co., Ltd
Paper Donut
Pedrita
PEGA D&E
Peter Ibruegger
Point-Blank Design Ltd.
Rafael Morgan Studio
Ryohei Yoshiyuki to job
Sander Lucas

Ontwerpen

Savvy Studio
Sebastian Bergne Ltd
Studio Toogood
StudioKahn
studioooij
Suppose Design Office
The Partners
THE SMALL PRINT
the.
Timothy Berg and 

Rebekah Myers

Torafu Architects
Tsutai Mika
WE Architecture
Wendy van Santen
Yukihiro Kaneuchi
Zarb Champagne
ZO_loft architecture & 

design