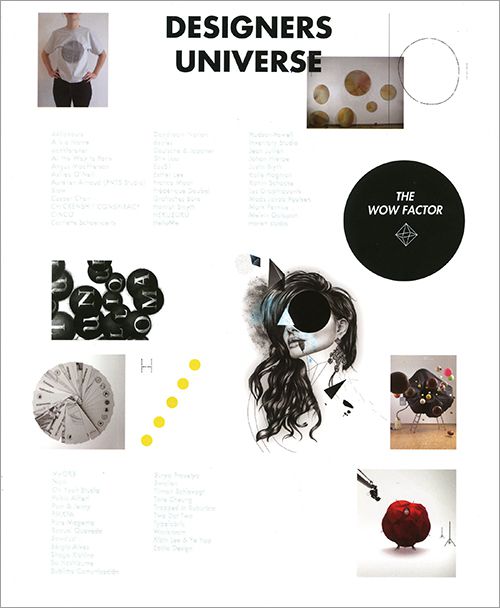 Designers Universe: The Wow Factor
Inspiration and Experimentation in Graphic Design
Published by Gingko Press
272 pages, Softcover
7 1/4" x 9" (184 x 229 mm)
300 color illustrations, English
ISBN: 978-1-58423-475-3
$39.95
Artistic inspiration can manifest in a variety of guises, from the work of other creatives, travel abroad, forms found in nature, urban blight, or cultural icons to loved ones. The title of this groundbreaking book refers not only to the seeds of creative growth or epiphany, but also to the output of the highly talented designers profiled within.
What it means to be an artist or designer is rapidly changing in today's competitive marketplace. The age of specialization is a thing of the past as studios emerge or reinvent themselves as multidisciplinary houses, capable of offering a broader array of products and services than ever before.
From graphic design and typography, to fashion, packaging, product design, photography, art installations and film — designers are responding quickly to trends by developing new tools, from the practical to the highly conceptual, to communicate their vision and retain clients. Contains engaging interviews with an unparalleled cast of international design studios that touch on process and role influences, as well as work and identity.
CONTRIBUTORS (FROM A-Z)
44flavors
A is a Name
aakkforever
All the Way to Paris
Angus MacPherson
Ashlea O'Neill
Aurélien Arnaud 

(PNTS studio)

Blow
Casper Chan
Cchickenshit Conspiracy
Cinco
Corriette Schoenaerts
Daydream Nation
Desres
Deutsche & Japaner
Driv Loo
Eps51
Esther Lee
Franca Moor
Frédérique Daubal
Grafisches Büro
Hamish Smyth
Hekuzuko
HelloMe
Hudson-Powell
Inventory Studio
Jean Jullien
Johan Hjerpe
Justin Blyth
Kalle Hagman
Katrin Schacke
Les Graphiquants
Mads Jakob Poulsen
Mark Pernice
Melvin Galapon
more+ studio
MyORB
Nam
Oh Yeah Studio
Pablo Alfieri
Pam&Jenny
PMKFA
Puremagenta
Raquel Quevedo
Sawdust
Sérgio Alves
Shogo Kishino
So Hashizume
Sublima Comunicación
Surya Prasetya
Swollen
Tilman Schlevogt
Tore Cheung
Trapped in Suburbia
Two Dot Two
Typefabric
Workroom
Xibin Lee & Ye Yao
Zaijia Huang