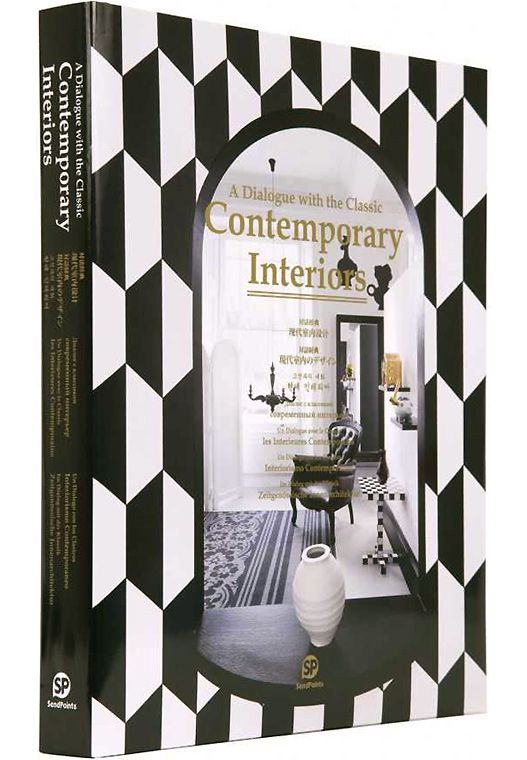 Contemporary Interiors
A Dialogue with the Classic
Published by Sendpoints Books Co., Ltd.
312 pages, Hardcover
9 1/2" x 11 3/4" (241 x 298 mm)
800 color illustrations, English
ISBN: 978-988-19610-1-3
$49.95
Contemporary interiors are as much a reflection of personal taste as they are of the time period we live in — a balance between internal and external influences. What was in vogue 10 years ago is often seen as out-of-date or passé, while the classic style of 50 years ago may reappear, integrating with our modern sensibilities.
This volume examines the variations, encompassing commercial and residential interiors from East to West and all points in between. Incorporating minimalist tendencies with baroque details, ethnic artifacts and rustic flourishes, designers sample from many styles and cultures to provide their seamless visions. Deliberate use of color, lighting and texture provide for numerous contextual variations and moods.
Includes hotels, restaurants, designer showrooms, offices, converted churches, houses, apartments and more.
Featured Projects from A–Z:
Ames Hotel, Boston
Amsterdam Loft
An Apartment in SOHO

(New York)

Bank of Moscow's

Offices

Black and White

Apartment

Church converted into a

Residence, Utrecht

Conflicting Disciplines
Encarnacion
Fantasy House of Moooi
Guanzhu

Microcrystalline Stone

Marketing Center

Hotel El Palauet Living

in Barcelona

House Balkenhol in

Buchen

Huangpi Road Studios
International Shipping

Company Offices

Jaffa Apartment
Kensington House
Leon's Place Hotel in

Rome
Manchester Square

Offices

Marta Massada House
Moooi Showroom

London

MY Numptia
Stars Garden
Summit Ceramics

Exhibition

Tamina thermal baths,

Bad Ragaz, Switzerland

The Black Apartment
The Club
The Huangs' Mansion in

Muzha

The Town Hall Hotel
Vanke RunPark
Villa No. 12
YUCCA