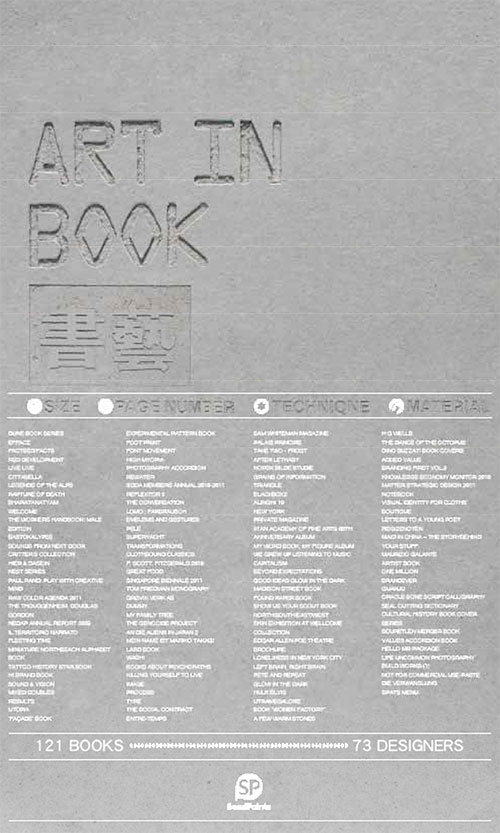 Art in Book
Published by Sendpoints Books Co., Ltd.
256 pages, Softcover
11 3/4'' x 7'' (298 x 178 mm)
1,000 color illustrations, English
ISBN: 978-988-15624-7-0
$35.00
The physical book is alive and well. Under pressure in recent years from the growing prevalence of electronic formats, the book has reasserted its dominance first and foremost as a tangible object, capable of arousing our senses through the skillful interplay of materials and techniques and just a little magic…
More than the sum of its content and packaging, a book has a life of its own, imbued by the words of its authors, but also by the hands of its designers. Responsive to current trends in design or nostalgic for old processes and art forms, the opportunities for creativity are endless, from special inks and papers to unusual bindings and interactive features.
With in depth descriptions and specifications for each book project showcased and the special techniques used highlighted, Art in Book holds much to inspire. Includes 121 cutting edge book designs by 73 world-class designers.
CONTRIBUTORS (FROM A-Z)
5M5
A Dear Friend
Susana Ablanedo
Darya Aksyuta
Reut Ashkenazy
Base
Become.se
Beijing Gupeng Graphic Design Inc.
Hila Ben-Navat
Coralie Bickford-Smith
Boccalatte
Sato Bon
Brian Banton Design
Elke Broothaers
Bruketa&Zinic OM
Build
Caroline Design
Yanting Chen
Justin Colt
Dan Alexander & Co
Design ranch
Jan Dudzik
Erica Craig Design
Give Up Art
Vera Gomes
Goto Design
GuangZhou Sendpoints Books Co., LTD.
Havnevik Advertising Agency
Hellome
Hi
Henning Humml
Joseph Johnson
Evelin Kasikov
Katie Hatz Design & Illustration
Ivan Khmelevsky
Michelle Kim
Viktor Konovalov
Chad Kouri
Larissa Leich
Dominic Liu
Jennifer Madden
Marc&Anna
Matter Strategic Design
Me Studio
Nicolas Ménard
Mikan – Mariko Takagi
Moodley Brand Identity
Cécile Nanjoud
Onlyhira Design
Laruen Mae Oswald
Francesca Pozzi
PS.2 Arquitetura + Design
Raw Color
Jana Reddemann
Reflektor 3 Team
Annabell Ritschel
Sagmeister Inc.
Amit Sakal
Sam Frith Design
Shen Zhen Liuyongoing Design Co. Ltd.
Shenzhen Zhagdali Design Co. Ltd
Since 1416
Li Siyang
Studio Kluif
Yenken Tang
Sherrie Thai
The Girl Who Ate Ink
Think Studio
Vinh Tran
Trapped in Suburbia
Visiotypen
Voiceless Sound LLC
Liu Yunlai
Lei Zhang